Celebrating Bill Lawvere and Fifty Years of Functorial Semantics
We gathered in October 2013 at the Union College Mathematics Conference to honor Bill Lawvere and celebrate the 50th anniversary of his dissertation on functorial semantics
Bill delivered an interesting keynote lecture "What are Foundations of Geometry and Algebra?"
which you can read about in the abstract or transcript, and watch in:
There were also talks (see abstracts) by:
Steve Awodey, Mike Barr (slides), Dimitri Chikhladze, Robin Cockett (slides), Geoff Cruttwell (slides), Peter Freyd (slides), Pieter Hofstra, Andr&eacute Joyal, John Kennison (slides), Fred Linton (slides), Rory Lucyshyn-Wright, Michael Makkai, Ernie Manes, Dorette Pronk (slides), Walter Tholen (slides), and Noson Yanofsky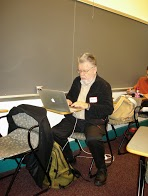 Marta Bunge (who, together with Mike Barr, conceived of this event) unfortunately could not attend, but sent:
A PERSONAL TRIBUTE TO BILL LAWVERE by Marta Bunge
This year marks the 50th anniversary of Lawvere's thesis on algebraic theories and of the far-reaching idea of algebraic structure as a functor adjoint to semantics. Around the time of this important event, Lawvere was also thinking about several other questions in category theory, motivated by his manifold interests from logic to physics, passing through algebra. In fact, so much so, that it was only in 1969 that he made public the open problems arising from his 1963 thesis.


⋮

Read full tribute

⋮

Over the years, my admiration for Bill Lawvere has only grown, as has my friendship with him and Fatima. From a mathematical point of view, what I most admire is his vast program in which the basic concepts, used to describe and develop a certain field of mathematics or physics, should be simple to grasp, yet intending to capture its essence. I see in Bill, whom I have now known for almost 50 years, an honest, kind and generous person, always ready to share his ideas with anyone willing to listen. An aspect of this is surely his love for teaching, a testimony of which is his delightful book Conceptual Mathematics with Steve Schanuel, a book which I studied in detail so as to give it justice in a review that I wrote of it in Spanish.

I wish Bill Lawvere all the years in peace and good health that he may need to complete his program.
And others contributed their thoughts on Bill's inspiration and generosity to us all:
Bill has always been a major inspiration for me. Talking with Bill has always been, for me, like a huge battery recharge ... he has always been willing to talk with unbounded enthusiasm and energy about anything and everything Categorical. Bill has played a significant role in my career (still ongoing) oiling wheels both administrative and mental so that I could get physically and intellectually where I was happy to be!
-- Robin Cockett
"Metric spaces, generalized logic and closed categories" and "Taking categories seriously" were two of the most important and useful papers for me in developing a love of category theory, and that his writings and thoughts on category theory in general were hugely influential in my decision to study the subject.
-- Geoff Cruttwell

I want to thank Bill Lawvere as so many of the issues, problems and puzzles that I enjoy working on derive their significance from his rich storehouse of ideas.
-- John Kennison

Congratulations Bill on this 50th anniversary of your work on functorial semantics. When I was a graduate student at Chicago I used to have regular weekly meetings with Saunders Mac Lane. During one of those meetings he said that he had just been on a flight somewhere with Sammy and that Sammy had given him a thesis and asked him to take a look at it and tell him what he (Saunders) thought about it. Now I never did hear what Saunders said to him about it later but I know that the week after he got it he gave me a copy to read. Well I was always getting things to read from Saunders but when he gave me the Functorial Semantics work to read I was immediately struck by the originality and beauty of its construction. Even when I looked at it today as my way of being part of your celebration I felt once again the same sense of amazement at the originality and freshness of that work as I did as a graduate student. I appreciate the work you have done since and all that your students have done to carry on with the spirit of your creations. Best wishes for a great celebration.
-- John MacDonald

It has been well over 40 years since I learned about Bill's thesis and was excited by the beautiful clarifications in it, and soon after met the marvelous worlds of topos theory. In the time since, it has been constantly fascinating to follow Bill's continuing progressive endeavours and a huge privilege even to work with him for a while. He has a profound depth of understanding combined with one of the most creative minds ever to grace the subject of mathematics. What is most inspiring for me is his unwavering commitment to sharing his understanding with others and his ever generous patience in doing so. Algebraic theories and the accompanying foundations were the first great theme in a sequence of bold new ideas that will affect the way we do mathematics for generations. I look forward to following Bill for many years to come.
-- Bob Rosebrugh

I owe the success of my mathematical career to Bill's guidance and inspiration, however, more importantly, I hope I have learned from the example of his openness and generosity with his ideas to become a better teacher. Bill treats every question and conversation with the same attention and earnestness, whether talking to a student or an established colleague.
-- Kimmo Rosenthal

Bill is a true educator -- enthusiastic in explaining matters to others, keen that they should understand, but also appreciate the beauty of the material at hand. He shows delight in learning new things, pouring over interesting papers, listening keenly to talks that capture his imagination, often engaging the speaker in intense discussion afterwards.


⋮

Read full tribute

⋮

The last few years have seen (and no doubt we'll continue to see) a number of tributes to Bill Lawvere, as we celebrate the 50th anniversaries of his many achievements from the 1960s. (I look forward to his remarks when we celebrate 50 years of elementary toposes!) That decade was very significant for category theory, and we are lucky to have had so many fine scholars from that time, mathematicians worthy of tribute all, who continue to enrich our community. Honouring their achievements honours not only our past, but also our present. And in that spirit, I'm glad to salute Bill on 50 years of functorial semantics.
-- Robert Seely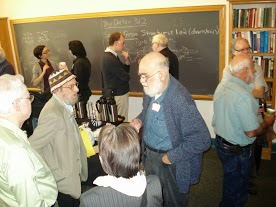 Many thanks to Danilo Lawvere for joining us in the celebration and sharing these wonderful photos
and thanks to our videographer Michael Wright